The 14th season of the Indian Premier League [IPL] may have ended prematurely due to multiple Covid positive cases but during the course of the 29 games that were played, we witnessed a plethora of hilarious moments that left everyone in splits.
Whether it was Virat Kohli's expression after Rishabh Pant's LBW call was overturned on DRS or Ravindra Jadeja's hilarious reaction after he claimed four catches in an innings, we witnessed numerous such instances in IPL 2021.
On that note, here's a look at 5 funniest moments in IPL 2021:
 Dinesh Karthik-Shikhar Dhawan antics after the former's fake appeal for stumping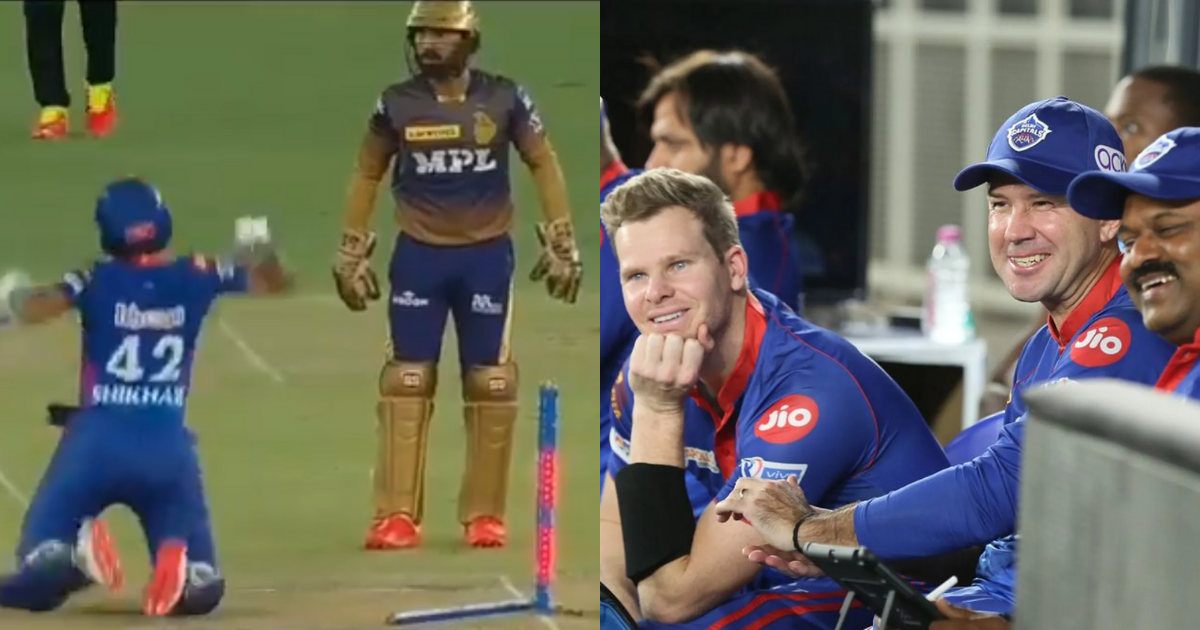 Former Kolkata Knight Riders skipper  Dinesh Karthik and Delhi Capitals opener Shikhar Dhawan exchanged hilarious back-and-forth when their sides locked horns in Ahmedabad during the recent IPL.
It all happened after the 3rd delivery of the 12th over during Delhi Capitals' run-chase of 155 when DK made a stumping appeal after Shikhar Dhawan failed to clip a back-of-length delivery bowled by Varun Chakravarthy off his legs that was spinning down the leg-stump.
The only issue was that Dhawan's foot never left the ground and Karthik didn't even appeal to the umpire. In fact, he was appealing to Dhawan himself, and in return, the southpaw hilariously came down to his knees while being inside the crease.
Watch the video here:
— Cricket Unlimi (@CricketUnlimi) April 29, 2021
Sanju Samson pocketing coin after the toss on his captaincy debut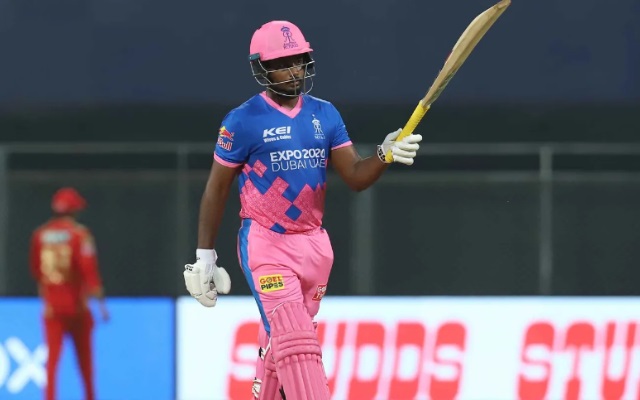 Sanju Samson may have not ended on the winning side during his maiden IPL game as Rajasthan Royals skipper but he surely made it memorable courtesy of his exploits both before and during the game.
Samson made his IPL captaincy debut against the KL Rahul-led Punjab Kings and to mark what was a special occasion for him, the Kerala stumper proceeded to pocket the coin after the toss.
"The coin looked really nice so I pocketed it, asked the referee if I can have it, but he said no," Samson said during the post-match presentation.
Sanju Samson keeps coin in pocket after 1st toss as IPL captain as referee looks on.
In pic : The moment
Via @inshorts#win #IPL2021 #toss #RRvsPBKS #PunjabKings #Gayle #Krunalpandya #funniesttweets #MEMES #rr #ramadanmubarak pic.twitter.com/ydurqRzXPk

— Raghav Saluja (@SalujaRaghav) April 12, 2021
Samson made the game even more special as he smoked a whirlwind 119 off just 63 balls which included as many as 12 fours and 7 monstrous sixes.
The right-hander nearly pulled off a sensational heist for his team in their run-chase of 222 but he eventually fell 5 runs short of the target as he holed out in an attempt to smash Arshdeep Singh for a six over deep extra-cover.
Prithvi Shaw checking underpants after being hit on crotch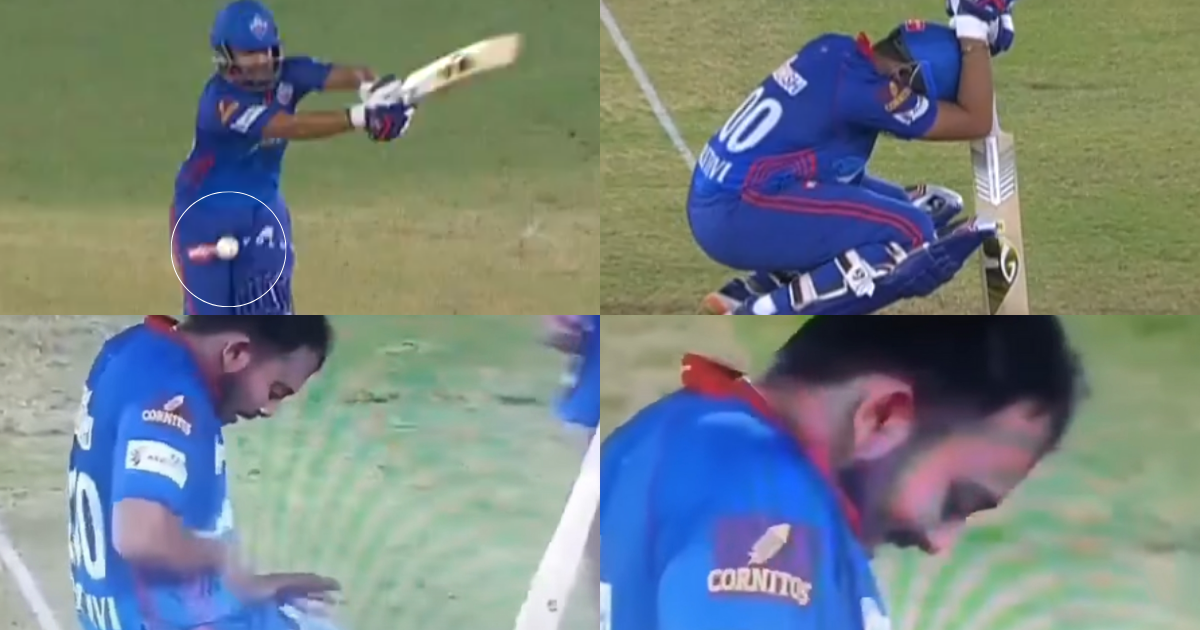 Prithvi Shaw courtesy of his whirlwind approach and authoritative stroke play gave us plenty of thrilling moments during the recent IPL.
But, there was one moment when Shaw, even while experiencing excruciating pain, left everyone in splits.
It all happened during what turned out to be the last game of the 14th season when the pocket-size dynamo was struck on his 'crown jewels' after he missed an attempted pull shot against a pacy bumper by Riley Meredith.
Shaw immediately collapsed on the ground and looked in excruciating pain. The game was held up as the physio came on the ground to attend the opener.
However, by the time it looks like Shaw had recovered, the opener has the funny side of the incident as he checked underneath his undergarments and let out a smile.
Ravindra Jadeja celebration after taking 4 catches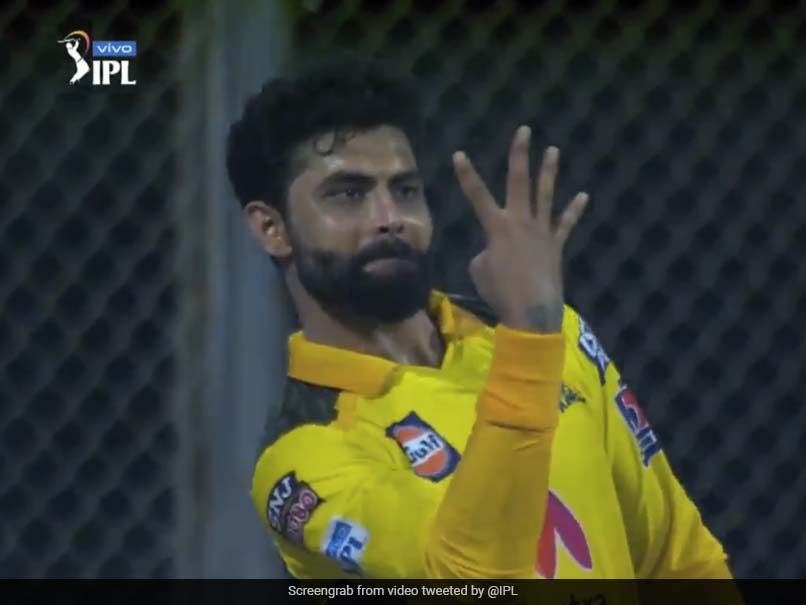 Ravindra Jadeja was at the height of his powers across all three facets of his game, especially as a fielder, in the recent season of the Indian Premier League.
Jadeja pulled off one brilliant catch after the other besides scripting sensational run-outs to once again impinge himself as the best fielder of the modern era.
The left-hander had a field day when he claimed as many as four catches during one of the fixtures against the Rajasthan Royals and he made it a point to remind everyone about his record-equalling fourth catch.
A resounding victory for @ChennaiIPL against #RR by 45 runs.

4 fine catches and 2 wickets for @imjadeja 👏👏#VIVOIPL pic.twitter.com/xMtP2v2elL

— IndianPremierLeague (@IPL) April 19, 2021
Jadeja claimed his 4th catch at the expense of Jaydev Unadkat at deep backward point, post which he celebrated by displaying his four fingers to express that it was his fourth catch of the match.
Later, the champion all-rounder made a hilarious phone-call gesture towards the dug-out that caught the eye of everyone.
Jadeja had a near-perfect game as apart from claiming four catches, he also claimed two wickets including the crucial scalp of Jos Buttler as CSK romped home to a comfortable 45-run victory.
Virat Kohli reaction after DRS overturns the LBW call against Rishabh Pant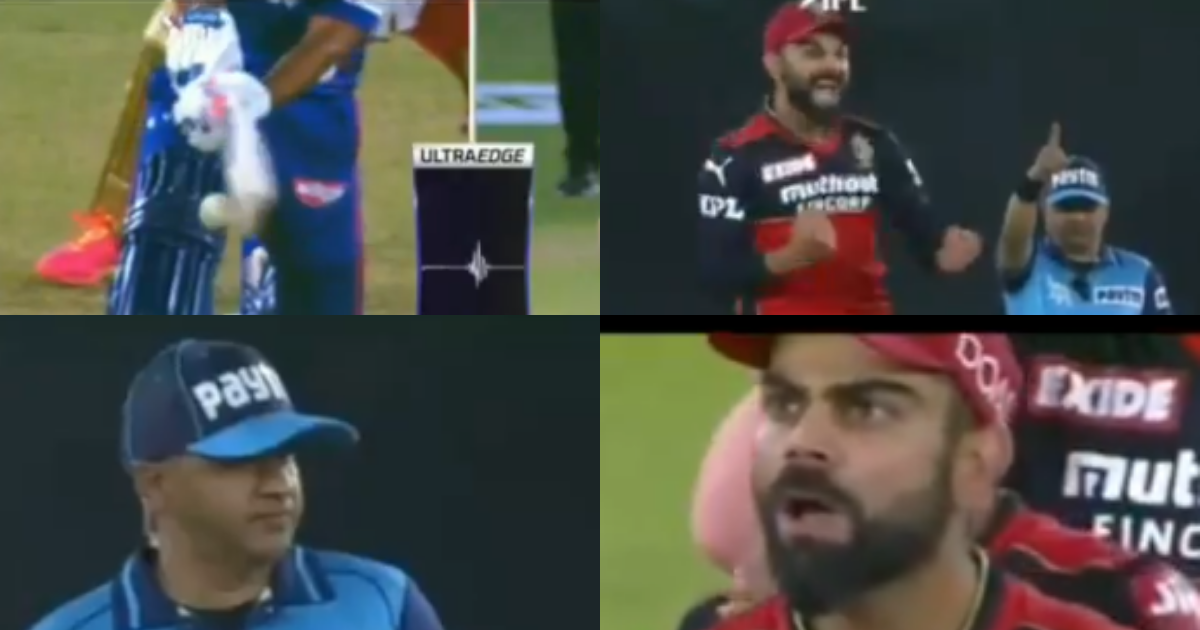 Virat Kohli's facial expressions every time he gets dismissed or when the decision against the opposition batsmen doesn't go in his sides' favor are pure gold.
And, we saw loads of it in the recent season of the IPL. But, none can match the expression that Virat gave when the on-field LBW decision against Rishabh Pant was reversed during the encounter between RCB and DC.
It all happened on the 1st ball of the 7th over when Delhi Capitals captain Rishabh Pant missed an attempted sweep and was struck on his pads.
Washington Sundar and company and went up in unison straight away but with the umpire unmoved, Kohli and co went on an appeal spree, eventually leading to the umpire raising his finger.
Kohli, as usual, got pumped up when the umpire raised his finger and proceeded to let out a guttural roar.
Rishabh Pant knew that he had inside-edged it and hence, he didn't even consult his fellow partner Prithvi Shaw and took the review straightaway. The replays confirmed the same and Virat's   expression- of pure disbelief- when he saw the replay on the big screen was the one to savor.
Also Read: 5 Uncapped Players Who Can Play For Team India On The IPL 2021 Performance Basis